A&L Goodbody, Tracey Solicitors and Leman named best places to work
---

---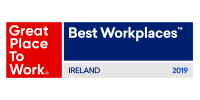 Law firms A&L Goodbody, Tracey Solicitors and Leman Solicitors have been recognised as some of Ireland's best places to work.
The three firms were recognised by Great Place to Work in its Best Workplaces in Ireland 2019 rankings.
A&L Goodbody was ranked #19 in the Large category, while Tracey Solicitors and Leman Solicitors came in at #20 and #29 respectively in the Small category.
They were assessed through Great Place to Work's "Trust Index" employee survey and "Culture Audit" assessment of employer policies and practices.
John Hogan, managing partner at Leman Solicitors, said: "It has taken a lot of hard work and initiative to get to this position and it won't stop here. Our core values of bravery, excellence and humanity underpin everything we do, and we try to ensure our culture really embodies these values."
John Ryan, CEO of Great Place to Work Ireland, said: "Securing a place on the list of Best Workplaces in Ireland is a greater achievement that ever before. These organisations have opened up to us, giving us a deep understanding of the culture that drives their performance.
"Even though we're dealing with an unprecedented level of economic and political uncertainty, these Irish organisations are ready to deal with the challenges: they have built agility and plasticity into the core of their workplaces, developing the high levels of trust that are critical for adaptability."