Andrew Kirke: Uncle Sam and the red dragon
---

---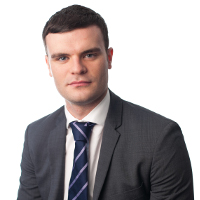 After increasingly positive noises around a potential trade deal between the USA and China (even the exchange of "beautiful letters" between presidents), recent weeks have seen both sides double down, levying increased tariffs in what many are now describing as a renewed trade war, writes Andrew Kirke.
Whilst talk of tariffs has dominated the headlines, at a deeper level Washington's complaints are more structural, relating to Beijing's perceived abuse of state-owned enterprises and state aid, the coerced surrender of proprietary technology and the "trampling" of intellectual property rights.
Moves like President Trump's recent inclusion of Huawei on the USA's "entity list" (meaning US companies will not be able to sell products or services to Huawei without a licence) and his open reference to Huawei potentially forming a part of any trade deal demonstrate that the escalating tariffs are a matter of broader geopolitics and, from a US perspective, forcing China to accept perceived norms of fair international commerce.
And whilst many Western nations are reluctant to vocalise their agreement, and still more reluctant to endorse or mirror US protectionism, there is tacit acknowledgement amongst many that some of these problems do persist, regardless of developments such as the recent Chinese law making it illegal to force foreign investors to transfer their technology to Chinese partners.
For Northern Irish companies sourcing products or services from China, or looking to expand into the Chinese market, it is useful to think about some considerations they might bear in mind in terms of their China IP strategy.
With regard to Trade Marking, China has a "first-to-file" trade mark system, which means that a foreign company's brand and logo cannot be used in the PRC if these trade marks have already been registered by a local Chinese company. One specific problem is "trade mark squatting", where Chinese counterparties have taken steps to register unregistered trade marks belonging to their customers or suppliers in the EU or USA, then sought to ransom those trade marks back. To protect themselves against this, Northern Irish companies should ensure they have taken proper steps to trade mark key brands and logos in their current markets across all relevant categories and, if they are seriously considering entering the Chinese market in future, extending such registrations to the China Trademark Office (in both English and Chinese).
China also operates a "first-to-file" patent system, which means that it is possible for local Chinese companies to register another company's patents even though it is not the original inventor of a technology. There are time limitations on registering patents in China, so companies that registered their patents outside China more than 12 months previously are usually unable to register their patents locally in China. However, an important consideration to bear in mind is whether registering a patent in China could actually serve to disclose key technical information that could otherwise be protected through non-disclosure agreements (NDAs) and other practical measures, particularly where the technology in question is not easily replicated from what is already a matter of public knowledge.
The Chinese legal system has developed significantly in recent years, and China has instituted the formation of a centralised IP court system, as well as an appellate tribunal for IP matters. However, foreign companies still often complain of issues like local judicial protectionism, challenges in obtaining evidence, small damage awards and a perceived bias. Of local significance is that the Chinese courts do not currently recognise Northern Irish, Irish or English law court judgements. The practical upshot of this is that contracts with Chinese counterparties need to be governed by Chinese law in order to be enforceable. As Chinese courts will not hear disputes in the English language, such contracts also need to be expressed in Mandarin (or in both Mandarin and English), or they will be translated by a court approved translator (who cannot always be relied upon to accurately convey the original meaning). This is likely to add to the cost and time of contract negotiations.
Beyond these legal measures, there are a number of practical measures that Northern Irish companies can adopt to protect their IP. For example, carrying out thorough due diligence on prospective partners and company employees, signing properly drafted NDAs with partners and employees, and constantly monitoring the market for infringements are key practical steps to take to try to prevent their IP from being compromised.

Andrew Kirke is Director in the Contracts and Technology Department at Tughans