Belfast lawyers in 'full swing' for charity
---

---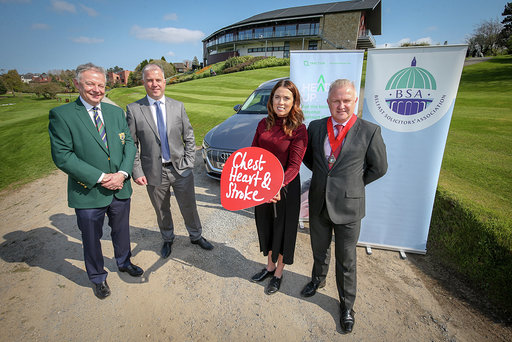 Legal eagles from across Northern Ireland will set aside courtroom rivalries to seek a winning verdict on the greens and fairways of one of Belfast's most exclusive golf clubs.
The Belfast Solicitors' Association's (BSA) annual golf tournament is set to take place this year at Belvoir Park Golf Club on Thursday 2 May 2019.
The tournament, sponsored by local car leasing firm Traction Finance, will be raising money for BSA charity partner Northern Ireland Chest and Stroke (NICHS).
Steph Ellis of NICHS said: "We are delighted to be supported by the Belfast Solicitors' Association as their charity of the year.
"We are your local charity for the care and prevention of chest, heart and stroke conditions and over 80 per cent of the care and prevention work we deliver across Northern Ireland is only possible because of voluntary donations, so we thank the BSA for their support.
"We extend our best wishes to the golfers, sponsors and everyone involved with the tournament and wish them a successful day."
Over 100 members of the legal profession will compete for the coveted Traction Finance BSA Trophy and a host of other luxury prizes, which will be awarded to the winners of various special categories.
Prizes – including a fine art print of Irish artist Stephen McClean's critically-acclaimed painting of the Great Hall in the Royal Courts of Justice, signed by the Lord Chief Justice, Sir Declan Morgan – have been donated by some of Northern Ireland's leading businesses, reflecting the status and popularity of what has become one of the most prestigious events on the corporate golf circuit.
Paddy Murney, sales director at Traction Finance, said: "Traction is delighted that our much-valued partnership with the Belfast Solicitors Association is now in its fifth year.
"The annual charity golf day is a key date in our calendar and it makes us proud to see this partnership support NICHS.
"We wish all the golfers and particularly our many clients within the legal profession every success in the event."
Enda Lavery, chairman of the BSA, added: "Our golf event continues to grow from strength to strength every year, which is self-evident from the calibre of our much-valued sponsors and the quality of the superb prizes on offer.
"I am particularly pleased that Northern Ireland Chest Heart and Stroke will benefit from the event and look forward to welcoming the charity, players and sponsors to the tournament and prize giving dinner at Belvoir Park Golf Club on the 2nd of May."