Ciaran Maguire elected chair of Belfast Solicitors' Association
---

---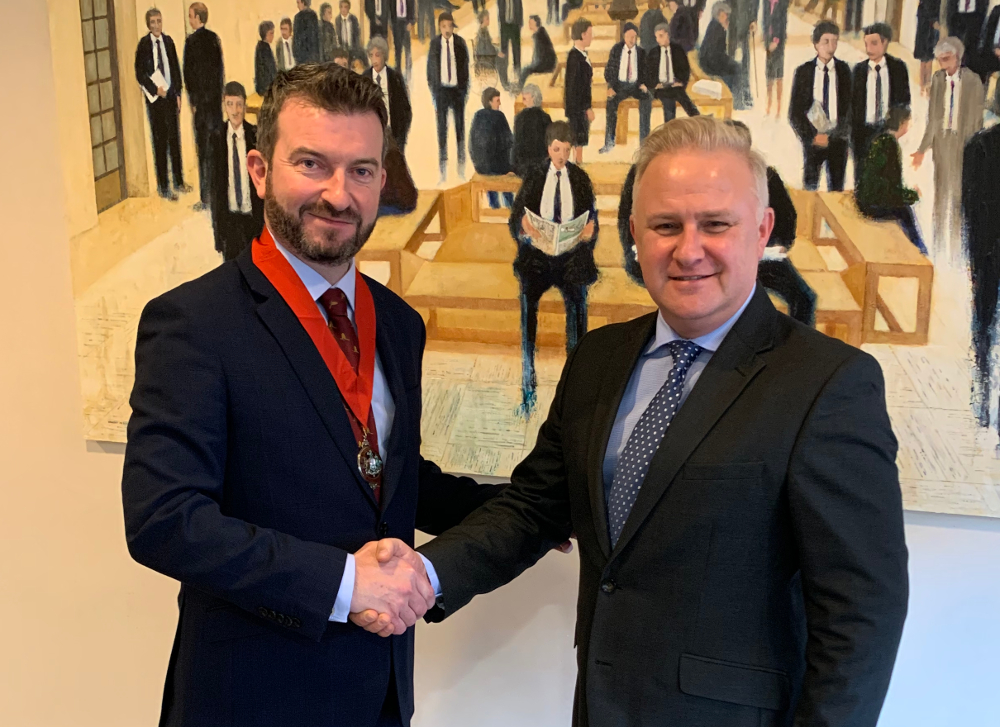 Ciaran Maguire of McIvor Farrell Solicitors has been elected as chair of the Belfast Solicitors' Association (BSA), succeeding Enda Lavery of MTB.
A new committee was elected at the association's AGM in Law Society House yesterday, which also included a presentation from new charity partner Action Cancer.
The AGM heard positive reports of the past year, with the BSA in good health and continuing to promote its aims of ensuring the provision of ethical and efficient legal services to the community, to enhance the standing of the Solicitors' profession in the public view and to conduct charitable work with their nominated partners.
Mr Maguire paid tribute to Mr Lavery as he was elected as chair for the year ahead, while Paul Moylan of McCann & McCann was elected honorary secretary and Sarah Wilson of MSM Law was elected honorary treasurer.
The full committee for 2019/20 is as follows:
Enda Lavery (MTB)
Gareth Magee (Proactive Lawyers)
Conrad Dixon (Tughans)
Sarah Wilson (MSM Law)
Steven Millar
Eoghan McKenna (MSM)
Claire McKeegan (Phoenix Law)
Charlene Dempsey (HHD)
Darragh Mackin (Phoenix Law)
John Burke (MacElhatton & Co)
Judy Hamilton (MTB)
Michael Crawford (KRW Law)
Ruairi Gillen (Gillen & Co)
Timothy Haslett (CCD)
Catherine Logue (BLM)
Paul McNickle (McConnell Kelly)
Ciaran O'Hare (McIvor Farrell)
Roisin McKenna (Madden & Finucane)
Susan Morrison (JMK)
Mr Maguire told Irish Legal News: "It is a genuine honour to be elected as chair of the largest local association of solicitors in Northern Ireland.
"The BSA was established in 1943 and has been a permanent feature of the legal landscape ever since, so I recognise the responsibility that comes with this position.
"I'm delighted to welcome Action Cancer as our charity partner and am looking forward to working with them, our members and the wider solicitors' profession as we head into 2020."
Gareth Kirk, CEO of Action Cancer, added: "We are delighted to have been chosen as the BSA nominated charity for 2020. All money raised for Action Cancer stays in Northern Ireland to support local people. We do not receive government funding and therefore rely heavily on donations from the public and local business community.
"We are looking forward to a fantastic year and high-profile partnership with the BSA in the coming year."