Civil society organisations call for urgent clarity around 'money message' mechanism
---

---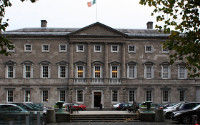 Civil society organisations have called on TDs and Senators to urgently clarify the rules around the "money message" mechanism amid fears it is allowing the Government to effectively veto legislative proposals.
Representatives of 25 organisations, including the Irish Congress of Trade Unions (ICTU), the National Youth Council of Ireland, Trócaire and Oxfam Ireland, set out their concerns in a letter published by The Irish Times today.
Under article 17.2 of the Constitution, legislation which involves "the appropriation of revenue or other public moneys" cannot proceed without a "money message" from the Government.
However, law academics Dr Eoin Daly and Dr David Kenny have warned that the Government has "made such extensive use of the mechanism that it threatens, in a very real way, the constitutional lawmaking power of the national parliament".
As of May 2019, the Government had granted a money message in respect of just three of a total of 55 opposition bills which had passed their first Dáil vote and were judged to require a money message.
In the letter published today, the 25 organisations said: "There is very little clarity as to what kind of costs are sufficient to trigger the need for a money message in the first place, and because all legislation will require at least some form of implementation by civil servants or State bodies, it is very unclear where the line is drawn. This must be examined and clarified by TDs and Senators as a matter of urgency."
They concluded: "As the Oireachtas resumes from its summer recess, we are calling on all elected representatives to ensure that this issue is swiftly addressed."