Commercial Hub announces plans for remote hearings
---

---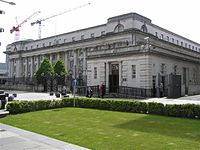 The practice direction underpinning the operation of the Commercial Hub of the High Court is being amended to allow for remote hearings, the commercial judge has announced.
In a statement, Mr Justice Horner said the Hub would remain "open for business" in spite of coronavirus restrictions and their impact on oral hearings in the Commercial Court.
The judge said the Hub "is prepared to consider any reasonable suggestion for hearing cases and/or applications" and he had recently heard an application to enforce an adjudication award "on the papers alone".
The Hub, introduced last April, operates as a business court dealing with all forms of commercial disputes, whether public or private law, and is made up of four judges working across the areas of commercial and chancery law, judicial review and ancillary relief.
Mr Justice Horner said: "It is important that the commercial community in Northern Ireland do not feel that they are being ignored at this difficult time. Solicitors and the Bar and clients should be prepared to be innovative and imaginative and collaborative in agreeing directions for hearings and how those hearings should be shaped.
"As the commercial judge I will hear applications in cases remotely and I am prepared to hear cases remotely. I will do everything reasonable to ensure that business is done at the Hub. We are in the process of amending the practice direction to provide for remote hearings.
"It is obviously in everyone's interests that commercial life returns to normal as soon as possible. The court, the clients, counsel and solicitors should all be working to that goal.
"In the meantime the Hub is determined that it will play a full part in supporting Northern Ireland's business community by providing a bespoke dispute resolution service tailored to the present circumstances."