Court users 'endangered' by large gathering at Four Courts
---

---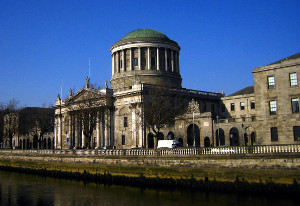 A large crowd of people who attended the Four Courts yesterday for the beginning of a legal challenge against COVID-19 restrictions "endangered themselves, gardaí, court staff and court users", the Courts Service has said.
In a statement issued after the High Court hearing, the service said it is "disappointed and appalled that people chose, or organised, today to attend in large numbers, despite not being required to be there".
Far-right activists John Waters and Gemma O'Doherty are seeking to have various pieces of legislation underpinning restrictions during the COVID-19 pandemic struck down as unconstitutional.
Up to 100 people gathered in the Round Hall of the Four Courts ahead of the hearing before Ms Justice Deirdre Murphy yesterday morning, but were not allowed to enter the courtroom.
The application for leave for a judicial review will be heard at a hearing in two weeks.
A spokesperson for the Courts Service said: "At this time of great public peril and threat to national health, we implore the public to be sensible and not gather in numbers in court houses.
"Regulations allow attendance where necessary at court sittings - specifically to fulfil a legal obligation to attend court - as being a permissible reason to travel outside the two-kilometre current norm.
"Safe spaces need to be maintained for those who are summonsed to attend court or who need to work there.
"But the public should be reassured that courts remain open to deal with urgent, emergency, and custody matters."