Delayed review of Irish rape trials due 'within weeks'
---

---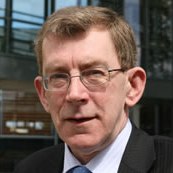 A long-awaited review of the investigation and prosecution of sexual offences in Ireland will be published within weeks, according to reports.
The review, chaired by Tom O'Malley SC and announced in the wake of the high-profile Belfast rugby rape trial, was originally meant to be completed by the end of 2018.
Mr O'Malley was asked to consider issues such as whether complainants should receive legal representation in trials, as well as how cases can be processed faster and whether additional training is necessary for gardaí.
It was commissioned by the government following criticism over aspects of the nine-week Belfast Crown Court trial of Ireland and Ulster rugby players Paddy Jackson and Stuart Olding, who were found not guilty of raping a woman.
A similar review north of the border was completed by Sir John Gillen and presented to the Northern Ireland Executive in May 2019.
A spokesperson for the Department of Justice told The Irish Times this week that Mr O'Malley's review "is almost complete" and will be presented to Justice Minister Helen McEntee "very shortly".