Double appointment at specialist law firm Caytons
---

---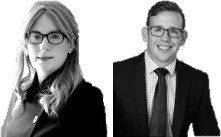 Specialist legal services firm Caytons has strengthened its Dublin office with the appointment of two additional solicitors.
Mary Smith joins the firm as a senior associate while John Sparks joins as a solicitor, both from an international commercial law firm.
Ms Smith brings a wealth of experience on complex heavyweight disputes and is recognised for providing thorough and efficient advices on professional indemnity and insurance coverage disputes within the construction sector.
She said: "It is a very exciting opportunity for me to join Caytons. I look forward to developing the Irish practice and working closely with our London office in growing Caytons' offering to the international insurance market."
Mr Sparks has experience in defending professional indemnity claims against solicitors, construction professionals, architects and medical professionals and dealing with high value coverage disputes.
He said: "I am delighted to be joining a growing firm within Dublin, where I can continue to support clients within various disputes. Having worked with some of the Caytons team in the past, I feel this is the right fit for me."
Commenting on their appointments, managing partner Ronan Cosgrove said: "Despite the current difficulties with COVID-19, we are delighted with the appointments of Mary Smith and John Sparks to bolster our Dublin team. Such additions to the firm demonstrate our commitment to further enhance our expertise and service to clients."
Operating out of Dublin since 2013 with an associated practice in London, partners and senior staff at Caytons offer specialist services to the insurance industry, with their core strength resting in most areas of professional indemnity insurance related disputes.