Former soldiers acquitted of Joe McCann murder after trial collapses
---

---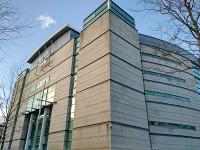 Two former soldiers have been acquitted of murdering Joe McCann in Belfast in April 1972 following the dramatic collapse of their trial.
The trial of Soldier A and Soldier C, two former members of the British Army's Parachute Regiment now in their 70s, opened in Belfast's Laganside Courts in 2017.
The prosecution case relied heavily on admissions made by the soldiers in interviews conducted by the Historical Enquiries Team (HET) in 2010, but the interviews were ruled inadmissible.
After the Public Prosecution Service (PPS) confirmed that they would not appeal on the issue of admissibility and had no further evidence, the two men were acquitted.
It is not yet clear what impact the ruling could have on other legacy cases involving former British soldiers.
Mr McCann, aged 24 at the time of his killing, was a leading member of the Irish Republican Army and later the Official IRA.
Solicitor Niall Murphy of Belfast firm KRW LAW LLP, representing Mr McCann's family, said the ruling "does not acquit the state of murder".
He said: "An arrangement between the then Attorney General and the GOC ensured that no British soldier would ever be interviewed by the RUC for shooting incidents. Ever.
"This arrangement, since found to be unlawful, has been relied upon by Soldiers A and C in their applications to exclude their confessions. Because they have confessed to shooting Joe McCann in the back. Let there be no doubt that the two cowards who hid behind anonymity did shoot Joe McCann in the back.
"That they were not arrested by the HET, as has happened to many here, but were permitted to attend by arrangement at their solicitors' office instead, has ironically since been relied on by them to exclude their interviews."
Mr Murphy said the family would now apply to the Attorney General for a fresh inquest to be held, at which he said Soldiers A and C could be be compelled to appear and give evidence.