Hibernian Law Journal names Matt Gregg as editor-in-chief
---

---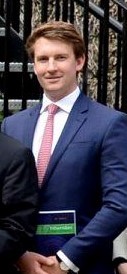 The Hibernian Law Journal has announced the appointment of Matt Gregg as its new editor-in-chief as it sets out to work on its next volume.
Mr Gregg, a deputy editor of the outgoing board, succeeds Riccardo Savona Siemens in the role and will edit Volume 20 of the Journal.
Louise O'Callaghan has been appointed as the new deputy editor for editorial and Philip O'Leary will be taking over the position of deputy editor for management, with Tara Smyth and Kevin Ryan having completed their terms in the respective roles.
Mr Gregg said: "I am delighted and honoured to be appointed editor-in-chief of Volume 20 of the Hibernian Law Journal and look forward to building on the many successes of Riccardo and the outgoing board."
The Journal is still recruiting new editorial board members and applicants are asked to send a CV to editor@hibernianlawjournal.com by Saturday 19 September 2020.
Established in 1999 under the patronage of the Law Society of Ireland, the Journal is edited by trainee and newly qualified solicitors and recently virtually launched its 19th Volume.