High Court: Couple fail to argue that €280,000 loan from a friend was a 'charitable gift'
---

---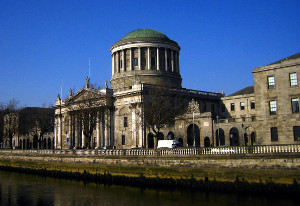 It has been ruled that a woman who gave her friend €280,000 from personal injury compensation she received as a result of a serious car accident, gave the money as a loan with no specified payment date.
Rejecting
arguments from the friend and her husband that the money was given as a charitable gift,
Ms Justice Deirdre Murphy
accepted on the balance of probabilities that the friend had promised to pay back the money, and that the issue would never have reached court if she and her husband had begun making repayments once they had established their new business
The accident and compensation
In 2002, Ms Fidelma Kerrigan sustained life-threatening head and facial injuries in a car accident that killed her father. She was hospitalised for two months and was unable to attend her father's funeral, she spent two years bed bound, and a further three years in a wheelchair. Since the accident, she has had to undergo 24 different surgical procedures. Her sister, Ms Celine Kerrigan, took five years unpaid leave from her job with the HSE to care for her.
Fidelma was a carer for her father at the time of the accident, and suffered psychological trauma resulting from the circumstances of the tragic death of her father, and her perception that he died in her care. Since the accident she was treated for depression, and Ms Justice Murphy said that the depth of her trauma could be gauged from the fact that even seven years after the accident, "she expressed the view that she would rather have died along with her father".
In a settlement agreement in July 2010, Fidelma received €750,000 in compensation
Loan to Mr and Mrs Keenaghan
Fidelma and Celine were friends with Ms Jaqueline Keenaghan, and in the aftermath of the accident in 2002, Ms Keenaghan was described as a source of comfort and support to the women. In 2007, the architectural practice owned by Mr John Keenaghan came under increasing pressure, and the couple began taking out loans to keep the business afloat. By 2009, the business had closed, and their sole income was jobseekers' allowance. Mr and Mrs Keenaghan faced financial ruin and bankruptcy – owing around €190,000 in bank debts, personal loans, and monies owed to the Revenue.
In August 2010, a month after receiving the €750,000 settlement, Fidelma handed over to Ms Keenaghan two demand drafts totalling €280,000. The first draft for €200,000 was presented for payment in August 2010, and the second for €80,000 was presented for payment in January 2011. After paying off their debts, the Keenaghan's had around €90,000 – part of which they gave to their children to complete their studies, and part of which they used to set up a counselling business in Ballyshannon.
The three women remained close friends for a number of years after the transaction. However, in April 2014, Mr and Mrs Keenaghan asserted that the €280,000 was a gift and therefore did not need to be repaid. Following this, Fidelma sent a letter of demand seeking repayment of the money, and issued a summary summons seeking repayment of the loan together with interest pursuant to the Courts Act 1981.
Fidelma claimed for the return of the monies on the basis that it was a loan, and on the alternative basis that if it was found to have been a gift that it was procured by undue influence. She said that Mrs Keenaghan broached the subject of lending money even before the settlement, promising that she would pay back every penny if Fidelma helped her out in her time of need.
Fidelma said that she was shocked by the amount she received in the settlement and felt bound to help her friend. Celine confirmed her sister's evidence, and submitted that although Mr Keenaghan had expressed concern at the time about their ability to pay back the money, Mrs Keenaghan had urged him to take it and told Fidelma that she would repay the money.
It was only after Mr and Mrs Keenaghan established their new business that Fidelma sought repayment, stating that she was allowing them to get back on their feet before paying her back. She was shocked that they were in a position to take holidays in the US but had still not approached her about repaying any of the money.
Mr and Mrs Keenaghan pleaded that the money had been given on a charitable basis or as a gift with no repayment date discussed. They denied any exercise of undue influence and denied that they approached Fidelma asking for money either before or after her personal injury settlement.
Mrs Keenaghan said that she had never discussed money to either Fidelma or Celine, that she never expressed concern that she would lose her house, and that she and her husband were working with the bank and the Revenue authorities to resolve their debts. Mrs Keenaghan said that the money given to her by Fidelma was entirely unsolicited.
Ms Justice Murphy said that she was quite satisfied on the balance of probabilities that in the face of impending financial disaster, Mrs Keenaghan pleaded with Fidelma for help and promised that she would pay back every penny. Therefore, the money given to Mrs Keenaghan was a loan with no specified payment date.
Stating that Mrs Keenaghan became greedy and sought between €90,000 to €100,000 more than her family's liabilities, Ms Justice Murphy said that the real tragedy in this case stemmed from the Keenaghan's reaction to Fidelma's request for repayment. Ms Justice Murphy said that it was highly likely that Fidelma would have been happy with the money being repaid over many, many years, given that the three women were still best friends – and that Mr and Mrs Keenaghan could have comfortably made weekly or monthly payments given the success of their business.
Ms Justice Murphy said that it would not have been unreasonable for the Mr and Mrs Keenaghan to have asked their adult children to make some contribution – given that their education had been entirely funded by Fidelma's money.
Further, if the Keenaghans had sold a two and a half-acre holding they owned (which at one stage had planning permission for four houses) – they would have been able to make a lump sum payment to Fidelma.
Ms Justice Murphy said that if they had taken any of these steps, it was probable that Fidelma would not have taken the case to court.
Stating that it was Mrs Keenaghan's denial of the true circumstances of the loan that ruptured the friendship, and that this was an enormous breach of trust.
Ms Justice Murphy added that even if the court had found that the money was given as a gift, "it would have set the gift aside as being an improvident transaction on foot of which John and Jacqueline Keenaghan have been unjustly enriched, and accordingly it would be unconscionable for them to be permitted to retain it".
by Seosamh Gráinséir for Irish Legal News
© Irish Legal News Ltd 2019