High Court judge sets aside Honohan's appointment of convicted criminal as guardian ad litem
---

---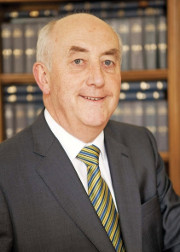 A senior High Court judge has set aside an order by the Master of the High Court, Edmumd Honohan SC, appointing a convicted criminal as guardian ad litem for three children.
Mr Justice Peter Kelly, president of the High Court, said it would be "grotesque" to allow Michael Grimes to act as guardian ad litem to three children whose parents are involved in litigation with the Revenue Commissioners, the Irish Independent reports.
Mr Grimes, a former company director, pleaded guilty last year to a number of criminal offences related to unpaid VAT liabilities of €340,000.
He was given a two-and-a-half year sentence, suspended on conditions including that he desist from interfering with the Revenue in its assessment and collection of taxes, and refrain from vexatious correspondence with the Revenue and its agents.
Setting aside the order made by Mr Honohan in January 2019, Mr Justice Kelly said Mr Grimes did not display "any special relationship or skill which would justify him being appointed".
The judge added: "Over and above that, it would be quite improper for the court to appoint somebody who has a sentence of imprisonment of two-and-a-half years hanging over him as a result of a plea of guilty.
"Such a person to be acting as a guardian ad litem or next friend of infant children would be grotesque. It is quite improper. I don't know whether the Master when he made the order which he did in January of this year was acquainted with that fact.
"Had he been, it would have been perverse for him to have made the order which he did."