High Court: Judicial review proceedings brought by man removed from State dismissed as an abuse of process
---

---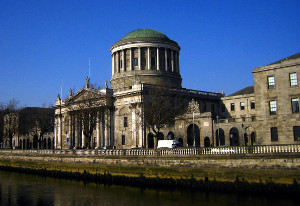 A man who brought judicial review proceedings challenging the decision to affirm a removal order made against him and an exclusion period of ten years has had his proceedings dismissed as an abuse of process.
The man had re-entered the State in breach of his exclusion order for a second time when he instituted the proceedings, and Mr Justice David Keane said the calculated decision to lie on oath provided ample grounds to dismiss the proceedings.
Background
Igor Mavlanous, a Latvian national, entered the State in 2004 and later acquired permanent residence under Article 16 of the Citizens' Rights Directive. Mr Mavlanous married a Latvian national in 2007 and their daughter was born in Ireland in 2010.
In 2008, a sexual offence complaint was made against Mr Mavlanous. In the Central Criminal Court in 2011, Mr Mavlanous pleaded guilty to rape contrary to s. 4 of the Criminal Law (Rape) (Amendment) Act 1990 and he was sentenced to six years imprisonment, three of which were suspended.
In 2012, the Minister for Justice and Equality wrote to Mr Mavlanous to inform him that he proposed to make a removal order against him pursuant to Reg. 20(1)(a) of the European Communities (Free Movement of Persons) Regulations 2006 and 2008 ('the 2006 Regulations'). Mr Mavlanous was also informed at this time that the Minister was proposing to impose a period of exclusion from the State for 10 years.
The removal order was made in March 2013, together with the 10 year exclusion period, and Mr Mavlanous was removed from the State on the day of his release from prison, 16 October 2013.
Re-entry and review of decision
In breach of the removal and exclusion order, Mr Mavlanous re-entered the State in October 2014. In January 2016, Mr Mavlanous requested a review of the decision to make the order. In September 2016, the Minister affirmed the decision to make the removal order and, on 29 September 2016, Mr Mavlanous was removed from the State for a second time.
In October 2016, Mr Mavlanous applied for leave to seek judicial review of the review decision. This was based upon a statement of grounds supported by a 'verifying affidavit' of Mr Mavlanous' solicitor dated 7 October 2016. The solicitor averred that he was making the application on Mr Mavlanous' behalf in circumstances where Mr Mavlanous was detained in prison; however, there is no reason to believe he was in prison on this date.
"Calculated lies"
In a replying affidavit in support of the Minister's statement of opposition, it was averred that Mr Mavlanous had returned to the State and had been present since May 2017, again breaching the removal and exclusion order.
Mr Mavlanous averred that he had resided in Latvia since his September 2016 removal and that he had not re-entered the State since then. Mr Justice Keane said it was "not now in controversy that those sworn statements were calculated lies".
A detective of the Garda National Immigration Bureau (GNIB) averred that, despite having been removed on two occasions, Mr Mavlanous entered and was present in the State on a further occasion, attempting to apply for a PPSN under a false name, Igor Grigorjevs. The conclusion that they were "one and the same person" was supported by examination of facial recognition software.
Thereafter, Mr Mavlanous admitted that he had re-entered the State shortly after his removal in September 2016, and went on to "…apologise to the court for his impatience and lack of faith in the legal process".
As a consequence, a preliminary issue arose in the proceedings – namely whether the proceedings should be dismissed as an abuse of process because of Mr Mavlanous' lack of candour, mala fides and gross misconduct in bringing and initially maintaining them on the basis of deliberate deceit that he admitted only after it had been incontrovertibly established.
High Court
In approaching the issue of deliberate deceit as abuse of process, Mr Justice Keane was guided by the decision in Sivsivadze v Minister for Justice [2016] 2 IR 403.
Applying the principles from that case, Mr Justice Keane said that firstly, these were judicial review proceedings simpliciter, in which Mr Mavlanous sought the discretionary remedy of judicial review of a discrete decision affecting him, and in which his "calculated decision to lie on oath in pursuit of that remedy provided ample grounds to dismiss the proceedings because of the egregious abuse of the judicial process".
Secondly, Mr Justice Keane was satisfied that there was "no countervailing constitutional interest…at issue in this case".
Thirdly, Mr Justice Keane was not satisfied that there was any evidence concerning the best interests of Mr Mavlanous' daughter, besides his own mere assertion – the credibility of which was called into question given his "established willingness to deceive his own legal representatives, the Minister and the Court". Mr Justice Keane said the Court "must first protect the integrity of its own process, if it is to operate effectively to protect other fundamental values such as proper regard for the best interests of the child".
Finally, Mr Justice Keane said that "for the same reason", he could not be satisfied that dismissing the proceedings would have any effect on the right to family life under the Constitution and the European Convention on Human Rights. Mr Justice Keane also considered the right of free movement pursuant to Art. 21(1) of the Treaty on the Functioning of the European Union and whether there was anything in EU law which would preclude or inhibit the dismissal of the proceedings as an abuse of process.
Mr Justice Keane said the abuse of process principles he identified "govern judicial review proceedings generally, and a requirement to refrain from deliberate deceit in giving sworn evidence to the court does not render the exercise of European Union law rights practically impossible or excessively difficult".
Stating that it was the court's obligation to exercise its inherent jurisdiction to dismiss proceedings as an abuse of process whenever it is just or equitable to do so, Mr Justice Keane ordered that the proceedings should be dismissed as an abuse of process.
by Seosamh Gráinséir for Irish Legal News
© Irish Legal News Ltd 2020