High Court to hear judicial review brought by mother who bought abortion pills for daughter
---

---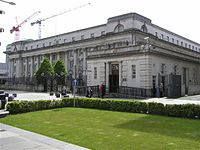 The High Court in Belfast has begun hearing a judicial review brought by a woman who was prosecuted for buying abortion pills for her daughter.
The landmark case marks the first time that the Public Prosecution Service (PPS) has been challenged on a decision relating to Northern Ireland's restrictive abortion laws.
The mother faces two charges of unlawfully procuring and supplying the abortion drugs mifepristone and misoprostol with intent to procure a miscarriage, contrary to the Offences Against the Person Act 1861.
If her challenge is unsuccessful, the mother faces a criminal trial and up to 5 years in prison.
The case was originally set to be heard in September, but the Lord Chief Justice, Sir Declan Morgan, did not want to proceed with the case until the PPS had considered the implications of a UK Supreme Court ruling in June.
Solicitor Jemma Conlon of Stephen Chambers Solicitors, representing the mother in the case, said: "This is an important day for my client. At the centre of this case is a loving mother and daughter who, over the past five years, have had to repeatedly endure and relive a private and distressing time in their lives.
"If we're successful in our challenge to the prosecution, this will contribute to the dismantling of a law that for so long has been used as a weapon against women and girls' rights."
Amnesty International is an intervenor in the case and has been working closely with the mother and legal team to contest the prosecution.