Human rights chiefs meet with UN high commissioner in Dublin ahead of Brexit
---

---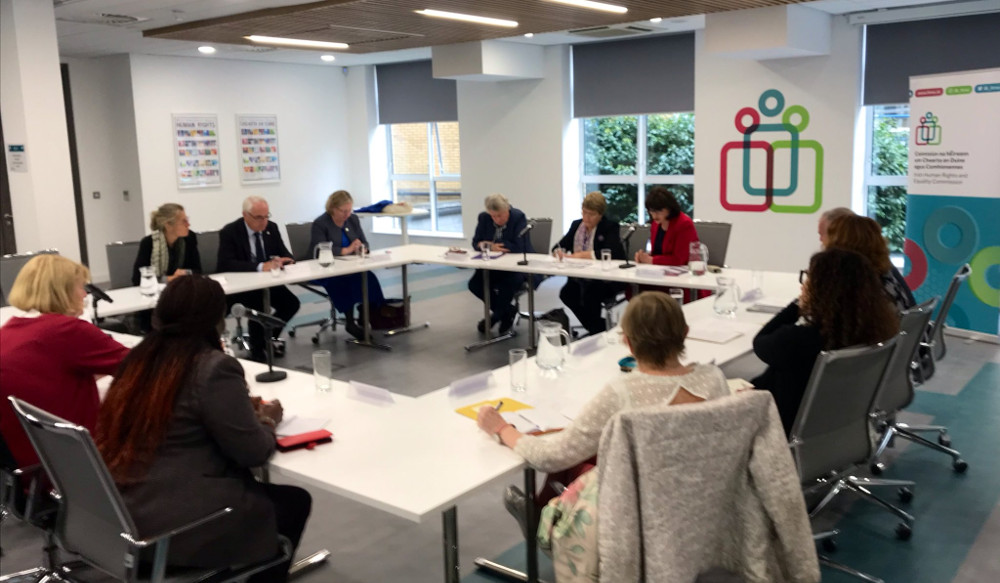 The UN high commissioner for human rights, Michelle Bachelet, has met with human rights chiefs in Dublin with discuss the impact of Brexit on the Good Friday Agreement.
Ms Bachelet held a face-to-face meeting with Emily Logan, chief commissioner of the Irish Human Rights and Equality Commission, and Les Allamby, chief commissioner of the Northern Ireland Human Rights Commission, as well as commission members.
Under the Good Friday Agreement, the two human rights bodies have a formal role to jointly consider human rights issues in the island of Ireland.
The two chief commissioner set out that the GFA, as a peace treaty lodged with the UN, cannot be unilaterally changed by one government, including its provisions on human rights and equality.
The meeting, which took place yesterday to coincide with the UN's International Day of Non-Violence, discussed the role of the GFA in over 20 years of peace in Northern Ireland.
The GFA's section on rights, safeguards and equality of opportunities explicitly sees the parties affirm the human rights guarantees provided under the international treaty.
Following the meeting, Ms Bachelet said: "I wanted to hear about the consequences beyond trade related to Brexit. We will be following and monitoring the situation with respect to human rights.
"Globally we are seeing a pushback on human rights, and we must work proactively to ensure positive responses to these challenges."
Ms Logan said: "The Belfast (Good Friday) Agreement holds a significant status as an international peace treaty, lodged with the United Nations over twenty years ago.
"Today's meeting has been an important opportunity to speak directly with the UN high commissioner for human rights, about the rights, safeguards and equality provisions of the Belfast (Good Friday) Agreement.
"The joint perspective of the two national human rights institutions north and south is that Brexit cannot be allowed to undermine, diminish or dissolve these rights which have been guaranteed by both the British and Irish governments."
Mr Allamby said: "The UK Government's commitment to 'no diminution of rights' under the relevant parts of the Agreement is a welcome one. We have important questions on how this will be implemented in practice. Those questions become even more stark if an agreement is not reached between the EU and the UK government.
"The protection of human rights and equality impacts on the daily lives of people including on citizenship rights, access to services and much more. The two Commissions have been actively involved in making sure human rights and equality issues are to the fore of the discussions around Brexit."