Ireland's first academic research centre focused on corruption opens
---

---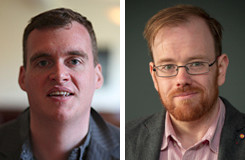 Ireland's first academic research centre dedicated to research, policy and education on corruption and anti-corruption has been established at Dublin City University (DCU).
The new Anti-Corruption Research Centre (ARC) is co-directed by Dr Michael Breen of DCU's School of Law and Dr Rob Gillanders of DCU Business School.
Its mission is to devise solutions and strategies to address a global issue that is estimated to cost almost $4 trillion USD every year in bribes and stolen money, on top of devastating social and economic consequences for communities across the world.
The centre will bring together researchers from law, political science, business, economics and accounting to examine the causes and consequences of corruption and to support the development of new anti-corruption practices in Ireland and abroad.
It will also develop executive education and CPD programmes as well as engaging with civil society, media and policymakers.
Speaking at the virtual launch of the centre, Finance Minister Paschal Donohoe said: "[It is] important that we research and understand the effect and causes of corruption on political life and we use this to better inform policymaking in this area.
"I look forward to it informing the work that we do here at home and abroad, in the work that Ireland can do, in combating corruption, and critically, in combating the consequences that corruption can have on public and political life."
The virtual launch also heard from Professor Elizabeth David-Barrett, director of the Centre for the Study of Corruption at the University of Sussex; Irish Examiner journalist Mick Clifford; John Devitt, chief executive of Transparency International; DCU's Dr Vicky Conway; and Dr Amadou Boly, special assistant to the vice-president and chief economist with the African Development Bank.
Professor Brian MacCraith, president of DCU, said: "Corruption is a complex problem that imposes an enormous cost on citizens and societies, right across the globe both in direct economic terms and in terms of the quality of life.
"The creation of this new centre is a recognition of the complexity of the challenge. By supporting new interdisciplinary collaborations, ARC will amplify the impact of the excellent research already being conducted by DCU researchers."
Dr Breen said: "The COVID-19 crisis has substantially raised the risk of corruption in Ireland and elsewhere. This centre will help us to address this risk, and work to strengthen Ireland's anti-corruption regime."
Dr Gillanders added: "Corruption undermines economic and social progress by simultaneously driving down innovation and investment and driving up poverty and inequality. We hope that ARC will deepen our understanding of corruption and lead to the development of effective anti-corruption interventions and strategies."