Irish Legal Heritage: The Manchester Martyrs
---
---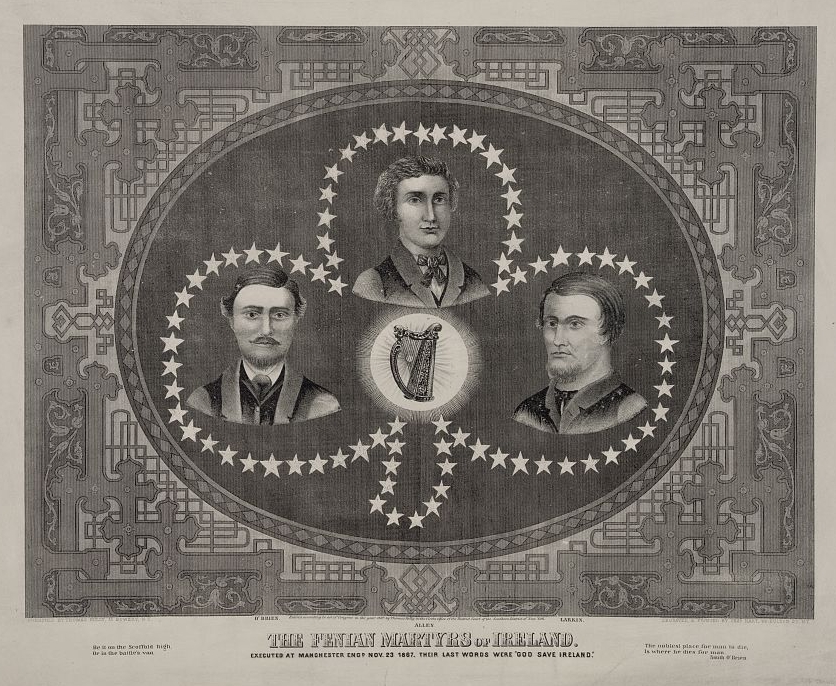 On 18 September 1867, Police Sergeant Charles Brett was shot dead while transporting prisoners, including two members of the Irish Republican Brotherhood (IRB), from Manchester police court to Bell Vue Gaol.
Thomas Kelly and Timothy Deasy had been arrested when police observed them "loitering about the streets in a suspicious manner" in the middle of the night, and presumed they were plotting a robbery. They were found to have loaded revolvers in their pockets, and were charged under the Vagrancy Act. However, communications with the Irish police led them to be identified as "notorious Fenians" who were key members of the IRB (M McDonnell Bodkin, Famous Irish Trials (1918)).
Sergeant Brett was killed when a group of between 30 and 40 men encircled the horse-drawn police van carrying the prisoners, and ordered Sergeant Brett to open the door. After he refused, one of the men fired his revolver into the lock to break it open – just as Sergeant Brett was looking through it to see what was happening outside. Sergeant Brett died instantly from a bullet wound to the brain, and his keys were used to release the prisoners.
Immediately afterwards, a reward of £300 was offered for the arrest of Kelly and Deasy, and a reward of £200 was offered for "information which would lead to the apprehension and conviction of the parties implicated in the rescue".
Kelly and Deasy evaded capture, but the investigation led to the arrest of 26 men. The first five men to be put on trial were William Philip Allen, Michael Larkin, Michael O'Brien, Edward O'Meagher Condon (otherwise known as Edward Shore), and Thomas Maguire (M McDonnell Bodkin, Famous Irish Trials (1918)). The jury found all five of the accused to be guilty of murder. The men were sentenced to death by hanging, to which they cried from the dock "God save Ireland!".
Edward O'Meagher Condon and Thomas Maguire were ultimately saved from the death penalty. The Home Secretary recommended that Thomas Maguire should be pardoned after it was accepted that he was not present at the rescue and that the witness testimony, upon which he and the other accused were convicted, was false. The Crown also granted reprieve to Edward O'Meagher Condon, as "he was unarmed when apprehended and was not proved to be armed during the fatal affray".
On 23 November 1867, William Allen, Michael O'Brien, and Michael Larkin were publicly executed in Manchester to a jeering crowd of thousands of people.
It was widely believed that none of the men had fired the fatal shot, and that a miscarriage of justice had occurred. Their cries of "God save Ireland" were ever memorialised in a song written by Timothy Daniel Sullivan that served as an unofficial Irish national anthem for years after their deaths:
"God save Ireland" said the heroes,
"God save Ireland" said they all.
Whether on the scaffold high,
Or the battlefield we die,
Oh, what matter when for Erin dear we fall!
Róise Connolly