Irish Legal Heritage: Typhoid Mary
---

---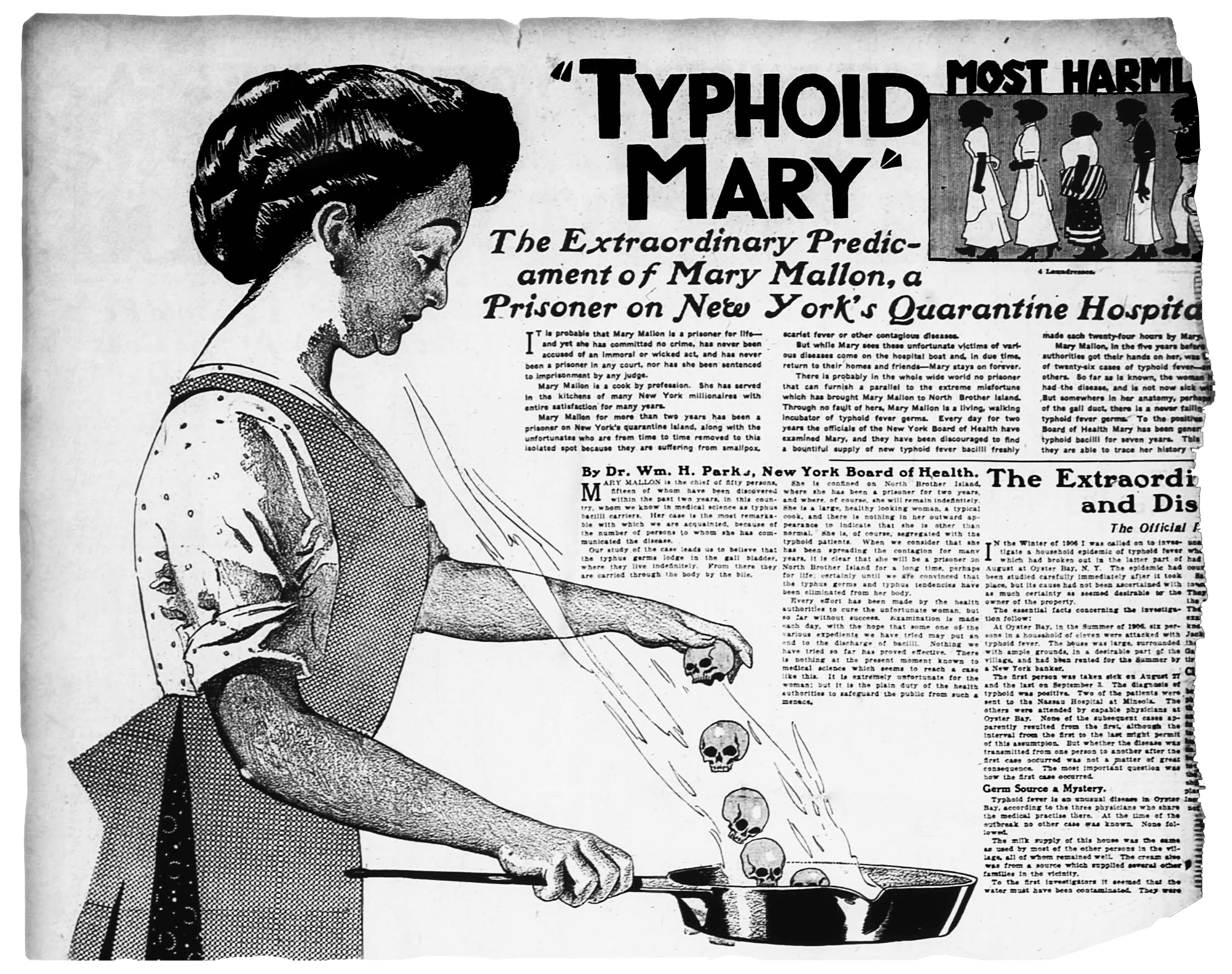 Last week marked 80 years since the death of Mary Mallon, who, after over 26 years of imprisonment, died in an isolation hospital on North Brother Island in New York. Mary's incarceration was not the consequence of being convicted of any crime, but was instead the reaction to her being identified as an asymptomatic carrier of typhoid fever.
Mary was born in Cookstown, County Tyrone in September 1869, and she emigrated to America when she was a teenager. Mary worked as a cook for New York's elite, one of whom was General William Henry Warren. In 1906, Mary was working for General Warren in a home he had rented at Oyster Bay, New York, when six people in the home became infected with typhoid. George Soper was hired to investigate the outbreak, who found that Mary had worked as a cook in at least seven households since 1900 where there had been outbreaks of typhoid after her arrival. Although typhoid bacteria did not survive ordinary cooking, Soper suspected that infection spread as a result of faecal matter in Mary's favoured dessert – peaches and ice-cream.
When Soper located Mary a number of months after the Oyster Bay outbreak, she was working for a family in Park Avenue, where the family's only child was dying of typhoid fever. Of course, Mary did not know that she was a carrier, so when she was confronted with the possibility that she was the source of so many infections, she chased Soper out of the Park Avenue Brownstone with a carving fork.
Mary was eventually arrested in March 1907, and was held in isolation for three years before being released by the Department of Health on the condition that she would no longer work as a cook. However, still sceptical of her identification as an asymptomatic carrier, Mary changed her name to Mrs Brown and worked as a cook throughout New York for the next five years.
In 1915, Mary was arrested again when an outbreak of more than 20 cases of typhoid occurred in Sloane Hospital for Women – where Mary was working as a cook. Mary was brought back to North Brother Island. At this stage, three deaths and over fifty cases of typhoid had been attributed to her. When she died on 11 November 1938, after spending nearly three decades in isolation, "she had been advertised to the world as a dangerous person and had been treated worse than a criminal, and yet she had not been guilty of the least violence toward anybody".
Seosamh Gráinséir