Journalists welcome Crown Court ruling on right to protect sources
---

---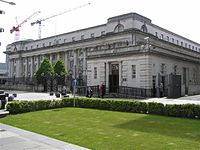 Journalists have welcomed a Northern Ireland Crown Court ruling which recognises the right of journalists to protect confidential journalistic sources and material.
Mr Justice Adrian Colton yesterday rejected an application brought by Alex McCrory, one of three co-accused in an ongoing criminal trial, against Sunday World journalist Paula Mackin.
In his application, arising from a series of criminal investigative reports published by the Sunday newspaper, Mr McCrory sought:
An order compelling the journalist to disclose source material;
An order compelling the disclosure of journalistic source(s) who provided journalistic information; and
An order compelling that journalist to attend the criminal trial and give evidence about the former matters.
Mr Justice Colton, in setting out his reasons for rejecting the application, drew heavily on the landmark Goodwin case which was taken to the European courts by the National Union of Journalists (NUJ) in defence of press freedom.
Séamus Dooley, Irish secretary of the NUJ, said: "Coming in a week where members Trevor Birney and Barry McCaffrey have secured the right to a judicial review of police actions against them, this is a good week for journalism in Northern Ireland.
"I welcome the fact that Mr Justice Colton was clear and unambiguous in upholding the honesty and integrity of Paula Mackin and accepted the veracity of her evidence. Journalists must be able to do their work without fear of compromising their professional standards."
IEC Cathaoirleach Gerry Carson had represented the NUJ at the hearing.