Judge questions use of provocation defence where deceased only used words
---

---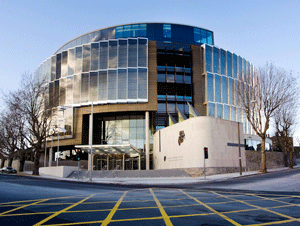 A judge has questioned whether provocation should be allowed as a defence in murder cases where the deceased only used words against the accused.
Justice Tony Hunt was speaking at the Central Criminal Court during a sentence hearing for a man who kicked his father to death after his dad called him a waster and a disappointment and told him he wished he'd never been born. At his trial, Mark Tims's lawyers said he was provoked by his father's words to the extent that he was no longer master of his own actions. A jury accepted the defence case and found him not guilty of murder but guilty of manslaughter.
Justice Hunt said he believes in the rule of "sticks and stones" and added: "I wonder whether provocation should be allowed in respect of words, but it is and we will see what the Supreme Court has to say about it in due course."
Having heard that the defendant was aged 46 years at the time of the offence and had lived with his 74-year-old father for most of his life, Mr Justice Hunt said he was free to move out of the house and Mark Tims was "obliged to put up with him, not the other way around."
While the jury had accepted that the accused man had the requisite loss of control to qualify for a defence of provocation, Justice Hunt added: "I'm bound to say, he recovered his balance fairly quickly." He pointed to the fact that Mr Tims was seen on CCTV buying alcohol at an off-licence shortly after the killing and then went to a park where he spent most of the next 24 hours until gardai found him. To an observer, Justice Hunt said, his actions "might be observed as rather callous."
He also pointed out that Mr Tims had taken a sim card from his phone to prevent gardai finding him and stayed in the park even though he knew his father had died from his injuries.
Mr Tims had pleaded guilty to manslaughter but not guilty to the murder of his father Anthony 'Tony' Tims at the home they shared at Rowlagh Green, Clondalkin, Dublin 22 on July 13, 2018. His plea was rejected by the Director of Public Prosecutions (DPP) but a jury found him not guilty of murder, guilty of manslaughter following a two-week trial in January.
At the sentencing hearing yesterday prosecution counsel Michael Delaney SC said the DPP considers the fatal assault to have been in the "medium" range of culpability. Vincent Heneghan SC for the defence agreed with the DPP's assessment and pointed to another case involving a man who kicked and punched his friend to death and was sentenced to seven years imprisonment. Justice Hunt accepted that the accused was "full of remorse" in the aftermath of the killing.
Mr Heneghan also pointed to his client's low intelligence and that he was drinking a lot at the time. He added: "He is not someone who comes with any great ambition or successes behind him." Since going into custody he said his client has begun educational classes and is taking an anger management, mental health and well-being course.
Justice Hunt also heard that Mr Tims had previous convictions that were all dealt with by the District Court. He had one conviction for assault causing harm for an offence in July 2009 for which he was fined €500.
The deceased's sister Sandra O'Donnell wrote an impact statement that was read to the court by Mr Delaney. She said that everyone who knew her brother "knew he was a very hard working man who provided everything he could for his family." He was always there for them when needed, she said, adding: "We are heartbroken beyond words."
Elizabeth 'Lil' McDonagh was Mr Tims's partner for 10 years before the fatal assault. She said their daughter had lost her granddad and her dad.
Justice Hunt will sentence Mr Tims on March 16.
Eoin Reynolds, Ireland International News Agency Ltd.