Latest figures show improvement for case processing times in courts across Northern Ireland
---

---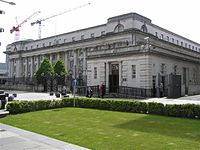 Case processing times improved across all courts in the year ending April 2020, according to new figures.
The Department of Justice has published new statistics on the average case processing time for criminal cases in the Crown and magistrates' courts in Northern Ireland between 1 April 2019 and 31 March 2020.
The figures show that the time taken for cases to be completed, from the time the offence was reported to, or detected by, the police, has shown an improvement compared to recent years.
The report is split to show the times for each type of court, however a decrease in processing times for cases dealt with by way of summons showed a consistent improvement for all court types.
Across all courts, the median time taken for a case to be dealt with was 149 days, showing a decrease of 10.8 per cent from the previous year.
For Crown Court cases, in 2019/20 the median time in relation to charge cases was 410 days which was a decrease of 1.4 per cent compared to the previous year.
For summons cases at Crown Court there was a decrease of 0.6 per cent, with the median time taken 861 days.
For summons cases at the adult Magistrates' Court there was a higher percentage of change, as the median time dropped from 201 days taken in 2018/19 to 178 days in 2019/20, a decrease of 11.4 per cent.
On the other hand, in the adult Magistrates' Court, for charge cases there was an increase of 2.9 per cent as the median time taken rose from 70 days to 72 days.
The youth Magistrates' Court followed a similar trend with a slight increase for charge cases and a decrease for summons cases.
The median time for charge cases in the youth Magistrates' Court rose from 114 days to 117 days, an increase of 2.6 per cent, and for summons cases the median time dropped from 265 days to 242 days, a decrease of 8.7 per cent.
The figures also reveal a large discrepancy in the median time taken to complete cases depending on the type of offence. Motoring offences were completed within 119 days on average while sexual offences took 698 days on average.