Law Society launches awareness campaign following uptick in homebuyer transfer scams
---

---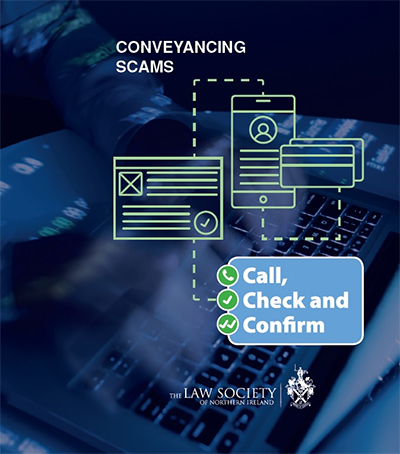 The Law Society of Northern Ireland has launched a new awareness campaign aimed at reducing the threat posed by cybercriminals targeting homebuyers, sellers, lenders and solicitors.
The "Call, Check and Confirm" campaign provides guidance, information and recommended actions to all parties involved in a house sale or purchase.
The Law Society's latest initiative follows an increase in reports of those involved in the conveyancing process being targeted and scammed out of significant sums of money by cyber-criminals.
Reports to the Society indicate that criminals are now also actively targeting homebuyers with transfer scams, in which money that the borrower is transferring to their solicitor in connection with their house purchase is intercepted and stolen by a fraudster.
The scam involves the fraudster hacking the email account of the homebuyer and then monitoring their emails. As the transaction nears completion, the fraudster will send an email purporting to come from their solicitor to the homebuyer instructing them to pay the money into a different bank account and providing bank account details for the fraudster's own account.
This is all part of the elaborate fraud which has resulted in some homebuyers losing significant amounts of money, which is often never recovered.
Commenting on the new campaign, Alan Reid from the Law Society said: "Our simple message to homebuyers is that it is very unusual for a solicitors' firm to change its bank account details in the course of a conveyancing transaction.
"So if you receive an unexpected email apparently coming from your solicitor asking you to lodge money or a deposit into a new bank account simply call your solicitor, check with them and confirm that it is genuine.
"It is recommended that bank account details should not be sent by email as this can create opportunities for criminals to steal money using transfer scams.
"It is important that all parties involved are aware of the potential risks and that they take practical steps to ensure that funds remain safe and that the conveyancing transaction progresses smoothly and successfully.
"The security of your money depends on it!"