Law Society urges solicitors to apply for High Court posts
---

---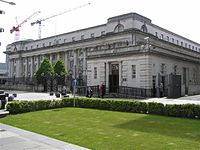 The Law Society of Northern Ireland has written to solicitors to urge them to apply for two vacant positions on the High Court.
Rowan White, president of the Law Society, said the appointment of Mr Justice Ian Huddleston in January 2019 "clearly demonstrates" that court advocacy "is not an essential requirement for these appointments".
On Friday, Irish Legal News reported that up to four new High Court judges are being sought at a time when low pay, pension cuts and the increasingly demanding and unsociable nature of the job are driving a judicial recruitment crisis.
Researchers at Queen's University Belfast noted last summer that the senior Bar "is widely seen as the traditional route to the senior bench". They also cited earlier research in Northern Ireland indicating that merit is "frequently viewed within the professions to be QC-focused, with undue emphasis on advocacy experience … [and] also male".
In his communication to solicitors, Mr White said: "As a profession, we have in the past been guilty of assuming that only very experienced advocates will be considered for appointment to vacancies on the High Court bench.
"As a result, many able colleagues have not applied for appointments to which they may have been very well suited. However, it is clear from the criteria that court advocacy is not an essential requirement for these appointments.
"Furthermore, the appointment of our colleague and former president, Mr Justice Huddleston, in January 2019 clearly demonstrates that this assumption is incorrect and must now be finally cast aside.
"His appointment highlights the relevance to his judicial office of the many skills and experience which he acquired as a transactional solicitor practising in property, commercial and private client matters. His practice had not included advocacy and it is essential to appreciate that the skills which NIJAC lists for the current vacancies are not focused on advocacy.
"It is very clear to the Society that NIJAC is keen to attract applications from a broad range of skilled lawyers, regardless of their professional background. There are undoubtedly a number of eminently suitable candidates currently practising in the solicitors' profession. If you feel that you may be one of them, I urge you to take this opportunity to apply."