Legal academic calls for 'dialogue and generosity' around Irish unity after speaking out about political pressure
---

---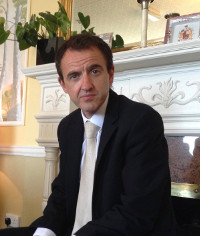 Human rights law expert Professor Colin Harvey has called for dialogue about Irish unity to continue in the "spirit of generosity" after speaking out about political pressure over his work.
Professor Harvey, of QUB School of Law, told an event at Derry's Guildhall that he felt "under siege from political unionism – among others – as a consequence of my participation in the conversation about constitutional change on our shared island", he said.
The academic has encouraged a discussion on Irish unity and recently co-authored a report for the European United Left/Nordic Green Left (GUE/NGL) group in the European Parliament on the role that EU institutions can play in facilitating it, in line with the Good Friday Agreement and consistent with democratic principles and international law.
He said he continues to "welcome engagement and informed public debate" and his "door remains open for conversation and dialogue with anyone".
Following Professor Harvey's comments on Friday about feeling "under siege", fellow academics, lawyer and politicians posted messages of solidarity on Twitter under the #WeSupportColin hashtag.
Professor Siobhán Mullally, director of the Irish Centre for Human Rights at NUI Galway, tweeted: "Absolutely critical to support the values of the Good Friday Agreement at this time, and for solidarity in protecting the essential democratic good of academic freedom."
Tanya Ward, chief executive of the Children's Rights Alliance, tweeted: "As a human rights graduate of Queen's University Belfast, I'm very disappointed to see what Professor Colin Harvey has been subjected to. Academics are one of society's key thinkers and need to be free to do this work."
In a statement, Professor Harvey said: "I want to thank all those who have been in contact. I appreciate the kind and generous expressions of solidarity and support.
"Please be assured that I will continue with many others in the collective hard work of defending the values of the Good Friday Agreement. I know I am not alone in that.
"I want us all to strive together to achieve a pluralist future based on respect for human rights, equality and social justice. A shared and reconciled island where all feel respected, valued and welcome."
He added: "We are living through febrile times. At moments like this we must be guided by the spirit of generosity, we must demonstrate creativity and imagination, and together show our determination not to repeat the mistakes of our past.
"We are a damaged society; we need to take care of each other. There has been too much hurt and too much pain. But we need to keep talking, keep planning and keep preparing.
"I would urge everyone to join the conversation about how we are going to share this island and these islands in the decades ahead."