Man who attempted to bring knife into Criminal Courts of Justice jailed
---

---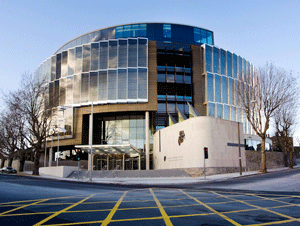 A man who admitted attempting to carry a knife into the Criminal Courts of Justice complex in order to attack a man who was looking for bail has been jailed for two years.
Sam Maughan, 24, pleaded guilty at Dublin Circuit Criminal Court to possessing a Stanley blade intending to incapacitate a person at the Criminal Courts of Justice on 15 August 2018.
His 77 previous convictions include possession of knives, false imprisonment, assault, drug, public order and road traffic offences.
Sergeant Brian Hunt told Tom Neville BL, prosecuting, that security staff monitoring the X-ray machines at the entrance to the CCJ complex spotted something suspicious in Mr Maughan's bag and asked him what it was.
Mr Maughan didn't reply but went back to a bin, went through his bag and threw something into the bin. He then returned to the X-ray machines and as nothing showed up in his bag, he was allowed into the building.
Sgt Hunt said the security staff went to the bin to investigate and noticed a small knife. A garda who was in the building was alerted to the fact that Mr Maughan had tried to enter the building with a knife.
The officer approached Mr Maughan, who was sitting in the foyer on the ground floor, and asked him to leave the building as it was suspected that he was attempting to breach the peace.
Mr Maughan was arrested the following week and admitted that he had brought the knife with him to attack the person who was trying to secure bail.
Sgt Hunt agreed with Kim Moloney BL, defending, that Maughan discarded the knife and didn't bring it into the CCJ complex.
He accepted that during a subsequent garda interview, Mr Maughan admitted that he became aware that the man who was up for bail had been arrested for assaulting Mr Maughan's sister's friend and that he brought the knife into the court complex to attack this man.
Ms Moloney told Judge Melanie Greally that her client was the subject of a care order after the HSE became involved with his family in 2002 because his mother was addicted to alcohol.
She said Mr Maughan had a lack of support and structure in his childhood and was moved from foster care to residential homes.
He did well in one placement when he was 17 years old and managed to attend college, but he had to leave when he turned 20. He had no supports when securing accommodation and returned to homelessness and drug addiction.
Ms Moloney said Mr Maughan first began abusing cannabis at 12 years old and was taking tablets by the time he was aged 14. She said that, in the lead up to this offence, he was abusing both alcohol and cocaine.
Judge Greally acknowledged that the screening machines were "very effective in detecting the knife" and the garda belief that Mr Maughan had it with him for a particular purpose was well-founded.
She accepted Mr Maughan's plea of guilty and the difficult circumstances of his upbringing. She said he is now making efforts to address his addiction and risk factors for re-offending.
Sonya McLean, CCC.nuacht