Marie Doyle-Rossi promoted to special counsel at Covington
---

---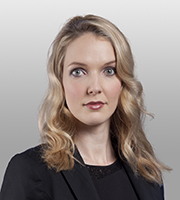 Irish lawyer Marie Doyle-Rossi has been promoted to special counsel at US-headquartered law firm Covington & Burling LLP.
Dr Doyle-Rossi, who is based in Dublin, joined the firm as an associate in 2010 and was promoted to senior associate in 2018.
Qualified as a solicitor in Ireland and in England and Wales and holding a PhD in biology, her practice focuses on life sciences regulatory, commercial and administrative law matters.
She has specialised experience in good practice matters and navigating the regulation of complex technologies, including advanced therapeutics, biologics, combination products, digital health and personalized medicine.
Dr Doyle-Rossi is also associate co-chair of Covington's food, drug, and device rapid response team during the Covid-19 pandemic.