Mary Robinson to probe corruption at African Development Bank
---

---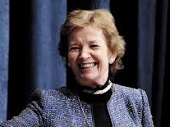 Former Irish president Mary Robinson has been appointed to a panel investigating allegations of corruption at the African Development Bank (AfDB).
Mrs Robinson, an experienced barrister, will be joined by Hassan Jallow, Chief Justice of the Gambia, and Leonard McCarthy, a former South African prosecutor and former head of the World Bank's anti-corruption office.
The three legal experts have been asked to produce a report within two to four weeks on allegations against AfDB president Akinwumi Adesina.
The bank's ethics committee previously investigated the allegations and concluded in May that Mr Adesina was "totally exonerated of all allegations made against him".
However, the United States – the bank's second-largest shareholder – has led a drive for a fresh and fully independent investigation into the allegations.
The bank is due to meet for its annual general meeting this August, where Mr Adesina will come up for re-election as president.