Ms Justice Irvine takes up role as High Court president
---

---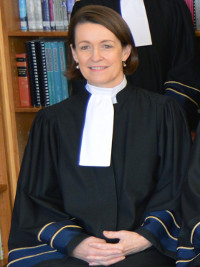 Ms Justice Mary Irvine has taken up her new role as president of the High Court after making her constitutional declaration in a small ceremony overseen by Chief Justice Frank Clarke.
"These occasions are normally marked by a very large gathering of the colleagues, family and friends of the judge who is about to make the declaration required by the constitution," the Chief Justice said. "For obvious reasons, there are very strict limits on the numbers that can be allowed in the courtroom today."
However, he noted that the cheerful ceremony would in fact have a larger audience than usual as it was filmed by the Courts Service of Ireland and uploaded to YouTube on Friday evening.
Ms Justice Irvine, whose nomination was announced last week, is the first woman to hold the position of president of the High Court and the first person in the State to hold a fourth judicial office.
Chief Justice Clarke told her: "I remain confident that you will, as always, bring wisdom and understanding to your work."