New figures show surge in claims against CervicalCheck
---

---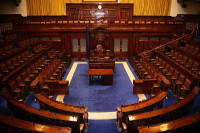 A total of 85 cases have been lodged against CervicalCheck over the cervical cancer screening scandal, the Irish Examiner reports.
Ciaran Breen, director of the State Claims Agency, confirmed to TDs that the number of cases had doubled since Taoiseach Leo Varadkar's midsummer promise that women would not be forced to go through the courts.
Of the 85 cases, 73 are still active, six are potential claims, one has closed and five more have been settled.
There were just 22 claims lodged by the end of May and 49 in the middle of summer.