Northern Ireland authorities launch bid to extradite 'on-the-run' republican
---

---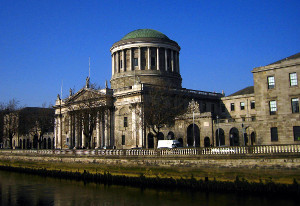 The first so-called "on-the-run" republican to be charged with offences since the scheme was found by British MPs to have "distorted the process of justice" has been brought before the High Court on an extradition warrant.
Donegal man John Downey, 66, is facing charges in relation to the killing of two Ulster Defence Regiment (UDR) soldiers in Enniskillen in 1972.
Lance Corporal Alfred Johnston and Private James Eames were killed when a device exploded in a vehicle they were checking.
Mr Downey was arrested on foot of a European Arrest Warrant at his home in Co Donegal on Monday and brought to the High Court yesterday. The warrant was issued by Northern Ireland authorities and endorsed by the High Court on Monday morning.
Counsel for Mr Downey, Garnet Orange SC, said his client would be contesting the application to surrender him and was "very anxious" to secure bail. He said Mr Downey had medical conditions and recently had a pace maker fitted.
Ms Justice Aileen Donnelly said she was satisfied the person before her was the person to whom the warrant related.
She fixed Friday 23 November as the date for the full hearing of the extradition case and remanded Mr Downey in custody to that date.
Ms Justice Donnelly also fixed Thursday 8 November for the hearing of a bail application.
Mr Kennedy told the court that the State was not consenting to bail but did not object to an early bail application.
Around a dozen supporters of Mr Downey attended the brief hearing, including Sinn Féin TDs Pearse Doherty, Dessie Ellis, Martin Ferris and Seán Crowe.
Mr Downey's trial in relation to the 1982 London Hyde Park bombing, in which four soldiers and seven horses were killed, collapsed in February 2014 over a letter sent to him and other alleged republican paramilitaries.
The letters, issued by the Tony Blair government, told the republicans they were not wanted for prosecution of crimes committed during the Troubles.
The "on-the-run" scheme and letters, which fully emerged following the collapse of Mr Downey's 2014 Hyde Park trial, triggered a major political controversy and led to an inquiry.
Mr Downey is the first "on-the-run" republican to be charged with offences since the scheme was found by a House of Commons committee to have "distorted the process of justice".
In a statement on Monday, a PSNI spokesperson said: "Following careful consideration of all available evidence, a decision has been taken to prosecute one person for the offence of murder and for aiding and abetting the causing of an explosion.
"Extradition proceedings were initiated in the High Court in Dublin on Monday November 5, to seek the extradition of one man from the Republic of Ireland for trial in Northern Ireland.
"One man was subsequently arrested in County Donegal this evening and is due to appear in court in Dublin tomorrow."
Ruaidhrí Giblin, Ireland International News Agency Ltd.