Penal reform group welcomes Oberstown improvements but raises alarm over handcuffing
---

---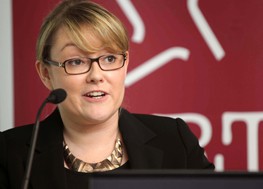 The Irish Penal Reform Trust (IPRT) has welcomed "significant improvements" in care at Oberstown Children Detention Campus, particularly in the areas of healthcare, fire safety and single separation.
According to the latest Health Information and Quality Authority (HIQA) inspection report, the number of incidents of single separation declined by 56 per cent to 1,701 in 2017.
However, the IPRT said it was concerned about inadequate monitoring of the use of physical interventions and restraints, including the use of handcuffing on campus.
It also called for improved engagement with Tusla and other external agencies to follow up on child protection concerns and "troubling" allegations of mistreatment by gardaí.
Deirdre Malone, executive director of the IPRT, said: "The HIQA inspection report of Oberstown campus shows that real improvements can be achieved when concerted focus on an urgent issue is met with resources.
"The reduction in incidences of single separation and significant improvements around healthcare, and in particular medication management, is very welcome. The continued reports from children and young people of good relationships with staff is especially welcome after a period of instability and change on campus."
She added: "At the same time, questions must be answered about the use of handcuffs within a secure campus. All international and national guidance and best practice is clear that handcuffs should not be used within a campus except in the most exceptional cases.
"The safety of children and staff is of utmost importance, but clarity is needed around why it was considered necessary, whether all alternative approaches had first been exhausted, and whether it was authorised by the Campus Director."