Police ombudsman to pay damages over 2011 Loughinisland report
---

---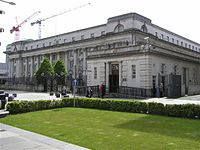 The Police Ombudsman for Northern Ireland will pay damages to families and survivors over its first report on the Loughinisland massacre.
The police watchdog admitted failings and said it would pay undisclosed damages as part of the settlement announced in the High Court in Belfast on Friday, BBC News reports.
The proceedings were brought in connection with a 2011 report which concluded that there was insufficient evidence of collusion in the 1994 massacre, in which UVF gunmen killed six people and wounded five others.
The report, by former ombudsman Al Hutchinson, was quashed by the High Court in 2012. A subsequent report in 2016 found that collusion between police and the UVF was a "significant feature" of the murders.
Relatives and survivors of the massacre sued the ombudsman's office over hurt and upset caused by the 2011 report.
A spokesperson for the ombudsman's office said: "The office apologises to victims and their families for its failings at that time."