Prison escort and court custody service switches to electric vehicles
---

---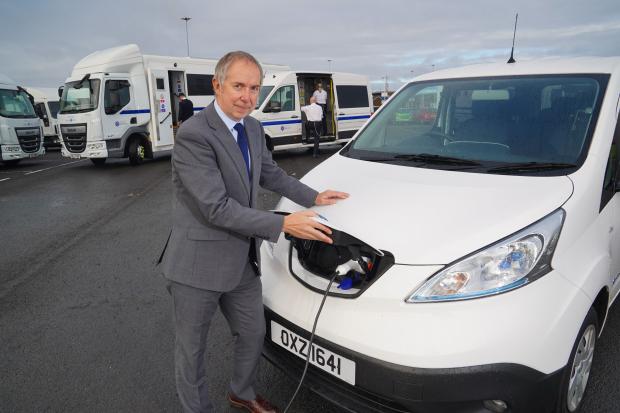 The Northern Ireland Prison Service (NIPS) has replaced much of its vehicle fleet with electric vehicles, helping to reduce its vehicle maintenance costs by a half in three years.
The Prison Escorting and Court Custody Service (PECCS) based at Maghaberry Prison maintains and services a fleet of 99 prison service vehicles including cellular vans, mini buses and lorries.
A new electric seven-seater Nissan car is the latest addition to the fleet, to be used by prison staff for the transport of prisoners to hospital appointments and work placements.
Every year, around 18,000 prisoners are escorted to and from courts, prisons, hospitals, police custody, interviews and the juvenile detention centre by PECCS officers.
Austin Treacy, director of prisons, said: "In line with the Northern Ireland Prison Service Sustainability Strategy, we have actively sought to reduce the carbon emissions of our fleet in recent years.
"We are now well on our way to having replaced more than 80 per cent of the fleet with the most environmentally responsible category of diesel vehicles available.
"Not alone has this helped us reduce our carbon footprint, but it has also brought considerable savings in maintenance, service and fuel costs."
Alan Platt, head of PECCS, added: "The work of Prison Escort and Court Custody Service's 170 staff largely goes unnoticed, but they are an integral part of the justice system.
"On a daily basis PECCS officers escort prisoners to and from courts, prisons, hospitals and police custody. An extensive fleet of vehicles is obviously required to undertake this transportation and PECCS ensure the smooth running of this service.
"There is however, considerable costs associated with all of this but the move to a carbon-cleaner and more economical means of transport has meant we have been able to reduce those maintenance costs and also meet ever decreasing budgets."