Scottish court considers case to stop UK government from passing Brexit deal
---

---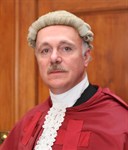 The Court of Session in Edinburgh is considering another Brexit case – an attempt to stop the UK government from passing its proposed EU withdrawal agreement.
Jolyon Maugham QC, who lodged the petition, believes the deal falls foul of legislation stopping Northern Ireland from forming part of a separate customs territory.
Mr Maugham wants the court to grant an interdict that would effectively suspend the deal and is demanding a court order that requires that the full text of any deal be put before MPs.
Lord Pentland is currently hearing the case and the court could sit again this evening to hear an appeal.
Mr Maugham's lawyers have told the court that the deal contravenes s.55 of the Taxation (Cross-border Trade) Act 2018, which provides that it is "unlawful for Her Majesty's government to enter into arrangements under which Northern Ireland forms part of a separate customs territory to Great Britain".
Mr Maugham tweeted: "The prime minister's desire to meet his short-term political objective of leaving on 31 October, after three and a half years, cannot trump the need for proper scrutiny of a 500+ page document with epochal consequences for Great Britain, Northern Ireland and the EU."