Solicitor Brenda King to serve as interim Attorney General
---

---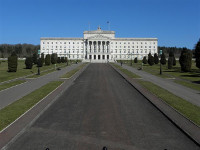 Solicitor Brenda King has been named as the interim Attorney General for Northern Ireland following the end of John Larkin QC's second term.
Mr Larkin will step down at the end of this month, 10 years after he became the first Attorney General for Northern Ireland since its functions were taken over by the Attorney General of England and Wales in 1972.
Since 2012, Ms King has served as the First Legislative Counsel for Northern Ireland, leading the Office of the Legislative Counsel (OLC), which principally drafts bills for the Northern Ireland Executive to introduce to the Assembly.
A graduate of Queen's University Belfast (QUB), the University of South Carolina and Cambridge University, she started her legal career in private practice as a solicitor in a legal aid practice and has also spent time in the diplomatic service.
From 2017 to 2019, Ms King was also the president of the Commonwealth Association of Legislative Counsel (CALC), which brings together people involved in legislative drafting in Commonwealth countries.
First Minister Arlene Foster said: "I am pleased to announce that Brenda King, First Legislative Counsel, will perform the functions of the Attorney General on an interim basis from next month.
"I would like to thank Ms King for agreeing to take on this important role and look forward to working with her in this capacity over the coming months."
Deputy First Minister Michelle O'Neill said: "I would like to express my appreciation to Ms King for taking on the discharging of the functions of the Attorney General on an interim basis.
"This will ensure that the duties of the post can continue to be properly carried out during the period of time required to appoint a successor to the role. I wish her well in the role, it is encouraging to see more women in senior positions in public life."