Staff at Thompsons Solicitors set to walk out over pay
---

---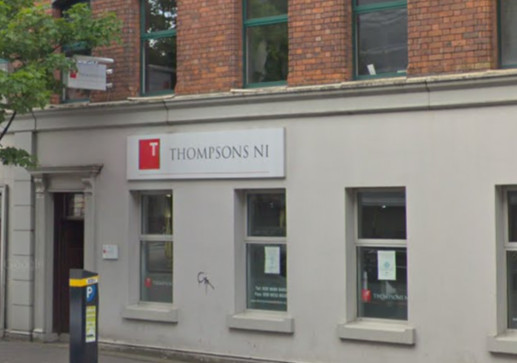 Staff at the Belfast office of Thompsons Solicitors are set to walk out later this month in a nationwide dispute over pay.
Trade union GMB said staff had accepted below-inflation pay increases for three years, despite equity partners taking millions in profit.
The firm, which has long-standing links with the trade union movement, initially offered workers a one per cent increase in pay, followed by a revised offer of two per cent after talks at ACAS, but the union is pushing for a 3.5 per cent increase.
Members of the union voted by 89 per cent on a turnout of 73 per cent in favour of a national walk-out on Friday 18 October, with picket lines expected in Belfast, Cardiff and at 12 offices across England.
Nadine Houghton, GMB national officer, said: "The ball really is now in Thompsons' court. We wrote to the firm on Friday with a list of dates we are available and a list of questions we have about the accounts.
"GMB hopes Thompsons can be transparent and give us some clear cut answers as well as scheduling urgent talks to avoid strike action.
"Our members have been very reasonable for a number of year. They have accepted below inflation pay increases only to find that equity partners have taken millions in drawings on profit.
"The strength of feeling from the members is loud and clear but we genuinely hope that strike action can be avoided and remain available for urgent talks."
In a statement, Thompsons said: "Our priority is to find a solution that rewards staff while also protecting the long-term sustainability of the firm.
"We are committed to trade union values and recognise the right of our colleagues to strike, but we are seeking to move forward constructively and we have agreed to further talks at ACAS on a date proposed by the GMB.
"We wish we could afford to pay the 3.5 per cent consolidated increase that the union is seeking this year, but we can't and the GMB have seen our accounts to confirm this for themselves."