Stormont meeting explores connection between trauma and violent offending
---

---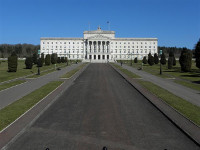 Key figures from Northern Ireland's criminal justice, health, education and charity sectors met in Stormont yesterday to discuss a new research and policy project examining the impact of trauma on offending.
The serious youth violence research and policy group was convened last September by Dr Colm Walsh, a research fellow at QUB School of Social Sciences, Education and Social Work, to examine how trauma as a result of exposure to violence can lead to young people, particularly young men, becoming violent offenders themselves.
Former Justice Minister Claire Sugden joined others from the Departments of Health and Justice, the Youth Justice Agency, the Education Authority, Barnardo's NI and Queen's University Belfast at yesterday's meeting, intended to help firm up a strategy for the group.
Dr Walsh told Irish Legal News that the decision to convene the group was inspired by "a growing interest internationally in trauma and the impact of trauma on behavioural outcomes, including offending", which had not yet been brought into a Northern Ireland context.
He said the group intends to "add to the conversation around what we know internationally about trauma and the impact of trauma, but also what we can do in the context of Northern Ireland to prevent violent offending".
The first step for the group will be a "mapping exercise" to find out the prevalence of violence among young people in Northern Ireland. Mr Walsh said figures obtained through Freedom of Information requests to police, health trusts and government departments had so far revealed an inconsistent approach to the collection of relevant data.
In the long-term, Mr Walsh wants the group to work with the Departments of Health and Justice on a pilot programme aimed at providing support to young men who have been exposed to violence in a bid to prevent them from becoming perpetrators of violence themselves.
For more information, contact Mr Walsh on colm.walsh@qub.ac.uk.