Thousands of charity registrations 'void' after Court of Appeal ruling
---

---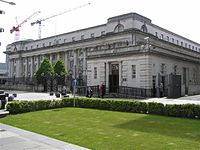 More than 6,000 charities are no longer registered in Northern Ireland following a court ruling earlier this year, the Charity Commission for Northern Ireland (CCNI) has confirmed.
In a legal update issued today, the regulator said the registration of charities which were registered prior to May 2019 are likely to be considered "void at this time".
The update follows the Court of Appeal's ruling in McKee & Others v Charity Commission for Northern Ireland and Department for Communities in February, in which judges found that CCNI staff do not have any decision-making powers when acting alone.
However, the regulator said the judgment "does not prevent any organisation which is a charity in law from operating as a charity".
"Whether or not your organisation is a charity in law is determined by the wording of your governing document," the regulator stated. "Registration, which is required by the law, recognises that you are a charity, but does not make you a charity. This was done when the organisation was established with charitable purposes."
The CCNI said it is working with the Department of Communities to "secure a resolution" to the situation. The majority of the CCNI's decisions until May 2019 were made at a staff level, and the regulator has said changing this would "involve a radical change to the Commission's structure, processes and budget".
A spokesperson for the Department of Communities said: "The determination of the Court raises complex issues in respect to charity regulation in Northern Ireland from 2013 when the Charity Commission began registration and going forward.
"As such, the Minister will want to understand all of the potential impacts of the judgment on past decisions to determine what is in the best interests of all stakeholders and to ensure that any future arrangements are fully considered as they will set the course for charity regulation in Northern Ireland and must be in the wider public interest.
"The Department is assured that the Charity Commission has introduced interim procedures to ensure decisions can be taken in compliance with the judgment.
"The minister will shortly determine how the Department intends to respond to the issues raised by the judgment. In the meantime the Department can give an assurance to those charities that were unlawfully registered that they remain charities in law and need do nothing differently in the interim."