Trainee solicitor elected secretary-general of Youth of the European People's Party
---

---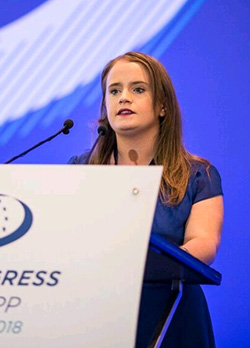 Trainee solicitor Eileen Lynch has been elected secretary-general of the Youth of the European People's Party (YEPP).
The YEPP is the youth wing of the European People's Party, the European political grouping to which Fine Gael belongs.
Ms Lynch, 28, a trainee solicitor at O'Flynn Exhams Solicitors in Cork, was elected to the post at the YEPP's biannual congress in Athens, Greece.
She said: "I am honoured to have been elected secretary-general of YEPP. It is vital that we provide a voice for young Europeans; so many young people are disillusioned and disenfranchised with politics and we need to change this. We need to engage more, and listen to the issues which are affecting young people. We need to talk to people rather than at them. We need to provide, real tangible solutions.
"In light of the ongoing Brexit negotiations, it is vital that Ireland would have a voice at the top of the largest youth political organisation in Europe. The 26 European member states have been extremely supportive of the Irish position in relation to a border in Northern Ireland, and we need to work to ensure that this continues."
Young Fine Gael was a founding member of YEPP in 1997. Former YEPP board members include Taoiseach Leo Varadkar and former European Affairs Minister Lucinda Creighton.