Tributes paid to Mr Justice Kelly on his retirement
---

---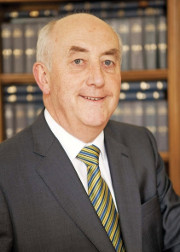 Lawyers and judges have paid tribute to Mr Justice Peter Kelly, president of the High Court, on his retirement today.
Micheál P O'Higgins SC, chairman of the Council of the Bar of Ireland, called him "an advertisement for the Irish bar and bench".
Mr Justice Kelly's judicial colleagues yesterday formed a guard of honour in the judges' yard of the Four Courts complex to say farewell while social distancing as he arrived for his last day of office.
He was taken by surprise by the gathering, which included Ms Justice Mary Irvine, set to succeed him as president of the High Court, and thanked the judges for the gesture, The Irish Times reports.
Mr Justice Kelly called to the Bar in 1975 and was elevated to the High Court in 1996, at the relatively young age of 46. With 24 years' service, he was the second-longest serving judge in the Irish courts and has been forced to retire after turning 70.
Mr O'Higgins said: "He was an outstanding barrister and leader of the Bar until his elevation to the High Court in 1996. As a High Court judge, judge of the Court of Appeal and, since December 2015, president of the High Court, he has been a beacon for the highest standards of competence, rigour, propriety and independence."