Trinity students to mark 50th anniversary of legal rights group FLAC
---

---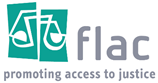 Students at Trinity College Dublin (TCD) are set to mark the 50th anniversary of legal rights group FLAC with a special meeting to be addressed by three of its four founders.
FLAC was founded in 1969 by four law students - David Byrne, Denis McCullough, Ian Candy and Vivian Lavan - after they were inspired by a 1968 conference on legal education hosted by TCD.
Trinity FLAC will now welcome Mr Byrne, Mr McCullough and Mr Candy, as well as current FLAC CEO Eilis Barry, to the university next week to speak about their experience.
A spokesperson for Trinity FLAC said: "To celebrate 50 years of incredible work, we are delighted to welcome the founders of FLAC back to Trinity to speak about their experience of setting up this vital organisation."
The "1969-2019: 50 Years of FLAC" event is open to the public and will take place in the Long Room of Trinity Library at 6.30pm next Thursday 21 March 2019.
The event is free to attend, but online registration is essential.