UN human rights chief calls for war crimes bill to be revised
---

---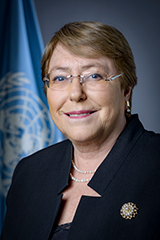 The UN's human rights chief has urged Westminster politicians to amend a controversial bill which would protect some British soldiers from prosecution for suspect war crimes overseas.
The Overseas Operations (Service Personnel and Veterans) Bill is reaching its final stages in the legislative process and will shortly be debated at third reading in the Lords, where amendments may still be made.
Its most controversial provisions include a statutory presumption against prosecution after five years since the alleged offence. Where more than five years have passed, the Attorney General or, in some cases, the Advocate General of Northern Ireland has to give consent for prosecution.
Prosecutors would also be required to "give particular weight" to certain matters, such as the mental state of soldiers during overseas deployment.
Michelle Bachelet, the UN high commissioner for human rights, said: "As currently drafted, the bill would make it substantially less likely that UK service members on overseas operations would be held accountable for serious human rights violations amounting to international crimes."
She said the restrictions on prosecutions "could lead to serious crimes not being adequately addressed – potentially in violation of the UK's obligations, including under the Convention against Torture and other international treaties".
Ms Bachelet also expressed concern about other provisions, including one that would limit the ability of courts to consider certain civil claims in connection to overseas operations after more than six years have passed, which she said may adversely affect victims' rights under international law to remedy, redress and access to justice.
Her office is also concerned about the proposed duty on the government to consider derogation from its international human rights obligations set out in the European Convention on Human Rights in relation to such overseas operations.
Ms Bachelet said: "I appreciate the government's engagement with my office on these issues. I also note that similar concerns have been raised by numerous politicians, NGOs, lawyers and former senior British military officers, as well as by the UN Committee against Torture and a group of UN Special Rapporteurs, including the Special Rapporteur on Torture.
"I urge UK legislators in both Houses of Parliament, and the government, to take these concerns fully into account when reviewing the bill, and to ensure that the law of the United Kingdom remains entirely unambiguous with regard to accountability for international crimes perpetrated by individuals, no matter when, where or by whom they are committed.
"The ability of the UK's courts to resolve the most serious allegations against military personnel, with the independence and fairness for which they are known around the world, should be maintained and strengthened, rather than be cut back on such problematic grounds."