Unlicensed Airbnb hosts face court action as number of listings rises
---

---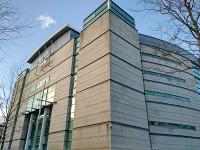 Tourism NI has warned that that unlicensed landlords advertising their properties on Airbnb could face court action, after figures revealed a sharp rise in Northern Ireland properties listed on the service.
Market research group AirDNA said there were 2,516 Airbnb listings in Northern Ireland in December 2018, including 1,552 homes and 960 rooms, mostly in Belfast.
Tourism NI initiated legal action against two unlicensed Airbnb hosts for the first time last year, but later dropped the action when they agreed to register, the Belfast Telegraph reports.
Northern Ireland is the only part of the UK where anyone offering overnight accommodation must apply for certification.
A spokesperson for Tourism NI said: "If it's brought to our attention that someone is operating without certification we will contact them, advise them of the legal requirement and ask them to register for certification.
"In almost every case the property will comply. We have the option to take court action against those who don't.
"This applies to everyone regardless of what marketing platform they use."
A spokesperson for Airbnb added: "We regularly remind hosts to check and follow local rules, and provide guidance about hosting in Northern Ireland to help them on our responsible hosting page."