Judicial recruitment crisis as High Court vacancies mount
---

---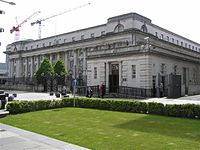 Up to four new High Court judges are being sought in Northern Ireland at a time when low pay, pension cuts and the increasingly demanding and unsociable nature of the job are driving a judicial recruitment crisis.
The Northern Ireland Judicial Appointments Commission (NIJAC) is currently advertising just two vacancies on the High Court bench, but is maintaining a reserve list of applicants as "up to two further vacancies may arise" by November 2021.
The court has not had a full complement of 10 judges since 2016, which recently prompted NIJAC to commission researchers at Queen's University Belfast (QUB) to examine why.

In the report they submitted last summer, they identified pay and pensions, the nature of the job, the recruitment process, traditions and assumptions, and career ramifications as "the five types of barrier to High Court appointments which we think are most relevant in Northern Ireland".
Many of the same obstacles have been identified in recent years in England and Wales and in Scotland, where one senior QC compared applying for a judicial post to "putting one's head in a noose".
Although some of the measures recommended in the QUB researchers' 52-page report have since been implemented – including the finalisation of the appointment of several temporary High Court judges – new legislation at Westminster and additional resources will be required to implement others.

One unnamed senior barrister, weighing up the attractiveness of a High Court post, bluntly told researchers: "I am going to have to come in every day of the week. I am going to have a boss, who will tell me where I have to go and what cases I have to hear, and my holidays are going to be cut back, and all of this for a cut in pay."
There is "a cadre of high-earning lawyers" in Northern Ireland who "are not likely to be interested in applying to become a High Court judge because they would be significantly better off financially if they stayed in their current job", the report noted, with High Court judges paid only £185,197 per year, a "relatively low" salary compared to senior barristers and solicitors.
Professor John Morison and Professor Brice Dickson's face-to-face interviews with 25 lawyers, including former judges, found that salaries and pensions – the latter of which were slashed in 2015 – are the "commonest barriers" to High Court appointments in Northern Ireland.
Their findings reflect similar UK-wide research which also found that "social respect" for judges is in decline, driven at least in part by "Brexit-related critiques in the press, combined with the then Lord Chancellor's failure to intervene in order to defend judges from such public attack".
However, their report also suggested that a role on the bench could be made more attractive, particularly for women and some minority groups, through the introduction of agile working practices, giving judges more flexibility on when, where and how they work.
A spokesperson for the Office of the Lord Chief Justice told Irish Legal News: "The Office of the Lord Chief Justice is aware of the QUB report which was carried out by Professors John Morison and Brice Dickson. The majority of recommendations sit with NIJAC.
"This office has taken account of the recommendations relating to 'the nature of the job' which the authors state could make the role more attractive. Some will require legislative change (for example to increase the complement of High Court judges to facilitate part-time working) or the provision of additional resource to increase the administrative support to judges. These and other recommendations are actively being considered by this office."
A spokesperson for the Bar Council of Northern Ireland said it "encourages all members to look at the opportunities on the High Court as being of great merit and distinction".
"We are rightly proud of the many former barristers who have successfully transitioned to the High Court in either a full time or, more recently, temporary capacity," they said.
"They provide very positive role models to other barristers. We also recognise that the demands placed upon our judiciary are considerable and one must be fully committed to serve in such an important position.
"The Bar Council therefore continues to provide support and training to any barristers considering such an opportunity, reacting to and taking account of any feedback from previous appointment rounds, and works very closely with NIJAC to encourage our barristers to actively pursue these opportunities and to view them as rewarding and attractive."